Change Up Our Charm Earrings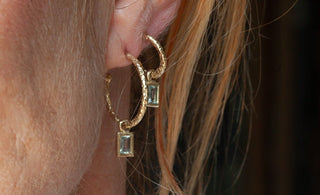 When it comes to accessorising, charm hoop earrings have become a must-have for eclectic individuals. Among the various styles available, huggie hoops with charms have taken the jewellery world by storm. These exquisite earrings combine the elegance of huggie hoops with the whimsy of dangling charms, creating a unique and captivating look.
What makes them so charming?
Unlike traditional earrings, huggie's are smaller in size and hug the earlobe closely. This design not only adds a touch of sophistication but also ensures a comfortable fit. When adorned with charms, these earrings become a true work of art.
Imagine delicate huggie hoops crafted from the finest materials, such as sterling silver or 9ct gold. Each hoop is meticulously embellished with intricate details, showcasing craftsmanship. The charms, ranging from dainty gemstones to miniature sculptures, dangle gracefully from the hoops, creating a mesmerising effect.
Why should you choose huggies Hoops?
Charm earrings with huggie's offer a multitude of benefits for those seeking a unique and personalised style statement. Here are a few reasons why they are a must-have:
1. Versatility: These earrings effortlessly transition from day to night, making them suitable for any occasion. Whether you're attending a formal event or simply running errands, charm earrings with huggie hoops add a touch of glamour to your ensemble.
2. Customisation: With a wide range of charms available, you can create a pair of earrings that reflects your personality and interests. From birthstone charms to symbolic symbols, the options are endless. Express your individuality and tell your story through these charming accessories.
3. Timeless Appeal: While trends come and go, charm earrings with huggie hoops have a timeless appeal. Their classic design ensures that they will remain fashionable for years to come. Invest in a pair of these earrings, and they will become a cherished heirloom.
How to style these adorable hoops?
Styling charm earrings with huggie hoops is a delightful experience that allows you to showcase your creativity. Here are a few suggestions to inspire you:
1. Effortless Elegance: Pair your charm earrings with huggie hoops with a sleek updo and a little black dress for a sophisticated look. Let the earrings be the focal point of your ensemble, adding a touch of glamour to your overall appearance.
2. Boho Chic: Embrace your free-spirited side by combining your charm earrings with huggie hoops with a flowy maxi dress and tousled waves. This bohemian-inspired look exudes a sense of effortless style.
3. Casual Glam: Elevate your everyday outfits by wearing charm earrings with huggie hoops alongside a crisp white shirt and jeans. This combination strikes the perfect balance between casual and chic.
Conclusion
Charm earrings with huggie hoops are a true testament to the artistry and creativity of jewellery design. These exquisite pieces not only elevate your style but also allow you to express your individuality. With their timeless appeal and versatility, they are a must-have addition to any jewelry collection. Embrace the world of charm earrings with huggie hoops and let your personal style shine.