Sparkling December Birthstone Jewellery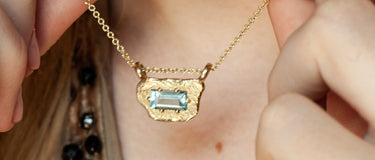 December babies, it's time to shine! And what better way to do it than with the stunning blue topaz birthstone jewellery? Whether you're treating yourself or looking for the perfect gift for a loved one, blue topaz jewellery is the way to go. Not only does it add a touch of elegance to any outfit, but it also carries a special meaning that will make you feel like a true gem. So, let's dive into the world of December birthstone jewellery and discover why blue topaz is the ultimate choice!
What Makes Blue Topaz So Special?
Blue topaz is not your average gemstone. It's like a little piece of the sky captured in a stone! With its mesmerising blue hues, blue topaz is said to symbolize love and affection. It's believed to bring clarity of mind, enhance communication, and promote feelings of joy and happiness. Who wouldn't want a little extra dose of those good vibes?
Types of Blue Topaz
When it comes to blue topaz, you have a variety of options to choose from. From the palest sky blue to the deepest London blue, there's a shade of blue topaz for every taste and style. Some popular types of blue topaz include:
Swiss Blue Topaz: This vibrant blue gemstone is as refreshing as a dip in a crystal-clear Swiss lake. It's perfect for those who want to make a bold statement.
Sky Blue Topaz: Like a cloudless summer sky, this delicate blue topaz will add a touch of serenity to your jewellery collection.
London Blue Topaz: With its deep, intense blue color, London blue topaz is the epitome of elegance and sophistication. It's a true showstopper!

White Topaz : White topaz is a colourless variety of the mineral topaz. It's known for its brilliant sparkle and clarity, making it a popular choice for jewellery. While it may not have the same name recognition as diamonds, white topaz can hold its own in terms of beauty and elegance.

First and foremost, white topaz is stunningly beautiful. Its clear and bright appearance gives it a timeless and classic look that can elevate any outfit. Plus, it's more affordable than diamonds, making it a great option for those on a budget.

But white topaz isn't just a pretty face. It's also believed to have metaphysical properties that can benefit the wearer. Some say that white topaz can enhance clarity of thought, promote spiritual growth, and bring good fortune. So not only will you look fabulous wearing it, but you might also experience some positive vibes.
When it comes to December birthstone jewellery, why settle for anything less than extraordinary? Opt for handcrafted pieces that showcase the true beauty of blue topaz. Handcrafted jewellery is not only unique and one-of-a-kind, but it also supports artisans and promotes ethical practices. Plus, you'll have a piece of jewellery that's made with love and attention to detail. It's like wearing a work of art!
Recycled Silver: Sparkle with a Conscience
Looking for a sustainable option? Choose December birthstone jewellery made with recycled silver. By opting for recycled silver, you're not only reducing the demand for newly mined silver, but you're also minimising the environmental impact. It's a win-win situation! So, go ahead and sparkle with a clear conscience.
So, whether you're celebrating a December birthday or simply want to add a touch of sparkle to your life, blue topaz birthstone jewellery is the way to go. With its stunning beauty, meaningful symbolism, and ethical options, you'll feel like a true gem every time you wear it. So, go ahead and treat yourself or surprise a loved one with a piece of December birthstone jewellery. It's time to shine bright like a blue topaz!
Shop our designer jewellery online