Engagement ring Styles The Ultimate Guide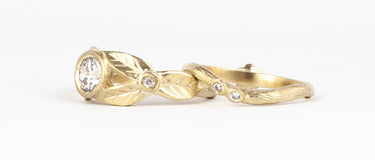 Engagement ring Styles The Ultimate Guide, When it comes to expressing eternal love and commitment, nothing captures the essence quite like an engagement ring. The world of engagement ring styles is a treasure trove of exquisite designs, each with its own unique story to tell. From classic solitaires to dazzling halo settings, let us take you on a journey through the enchanting world of engagement ring styles.
What Makes a Solitaire Ring So Timeless?
Imagine a single diamond, delicately perched upon a band of precious metal. This is the essence of a solitaire engagement ring. With its understated elegance and timeless appeal, the solitaire ring has been a symbol of love for centuries. Its simplicity allows the diamond to take center stage, capturing the light and reflecting it with unparalleled brilliance.
Are Halo Rings the Epitome of Glamour?
If you desire a ring that exudes opulence and grandeur, look no further than the captivating halo setting. This style features a center diamond encircled by a halo of smaller diamonds, creating a mesmerising halo effect. The halo not only enhances the size and sparkle of the center stone but also adds a touch of vintage-inspired glamour to the ring.
Why Choose a Vintage-Inspired Ring?
For those who appreciate the charm of bygone eras, a vintage-inspired engagement ring is the perfect choice. These rings draw inspiration from the romantic styles of the past, incorporating intricate details and filigree designs. With a vintage-inspired ring, you can wear a piece of history on your finger, symbolising a love that transcends time.
What Sets Three-Stone Rings Apart?
Representing the past, present, and future, three-stone engagement rings are rich in symbolism. The center stone is flanked by two smaller stones, creating a stunning visual representation of a couple's journey together. This style is not only meaningful but also offers endless possibilities for customisation, allowing you to select stones that hold personal significance.
Can a Unique Ring Reflect Your Individuality?
If you desire a ring that is as unique as your love story, consider exploring alternative engagement ring styles. From unconventional gemstones to asymmetrical designs, these rings are a testament to your individuality and creativity. Embrace the opportunity to express your personal style and create a ring that is truly one-of-a-kind.
As you embark on the journey to find the perfect engagement ring, remember that it is a symbol of your love and commitment. Choose a style that resonates with your heart and captures the essence of your unique relationship. Whether you opt for a classic solitaire or a dazzling halo, let your engagement ring be a reflection of your eternal love and a testament to your exquisite taste.
What makes a bespoke engagement ring so special?
When it comes to expressing love and commitment, nothing compares to a bespoke engagement ring. Crafted with meticulous attention to detail, these one-of-a-kind pieces are designed to capture the essence of your unique love story. Each bespoke ring is a work of art, a symbol of eternal love that will be cherished for generations to come.
Seeking a truly unique piece of jewellery that mirrors your style and personality? Please get in touch by booking an appointment. Lisa specialise's in personalised creations and enjoy working closely with my clients to design one-of-a-kind pieces that you'll treasure forever.
Looking for the perfect engagement ring? Want to revamp a lonely gem in your jewellery box? My bespoke engagement ring service will work with you every step of the way to bring your vision to life. With all pieces made with love in London, your bespoke jewellery will be exceptional! Find Our More Here 
Our Engagement Ring Collections