Ethical Handmade Silver Chain Necklaces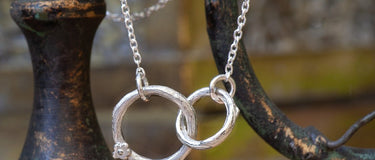 Looking for a way to express your unique style while also making a positive impact on the world? Well, look no further! We've got just the thing for you: ethically made silver chain necklaces. Not only are these necklaces stylish and versatile, but they are also made with a conscience. So, let's dive into the world of ethical jewellery and discover why these silver necklaces are the perfect addition to your collection.
What does "ethically made" even mean?
Good question! When we say "ethically made," we mean that these silver chain necklaces are produced in a way that considers the welfare of both the people who make them and the environment. No sweatshops or harmful practices here! Ethical jewellery brands ensure fair wages, safe working conditions, and sustainable sourcing of materials. So, you can wear your necklace with pride, knowing that it was made with love and care.
Lisa's silver pendants and necklaces are created using recycled sterling silver by hand in the UK, each design begins with a drawing, carved in the wax and cast in Hatton garden. 
Boho Look Or A Sophisticated Style 
Silver chain necklaces are like the chameleons of the jewellery world. They can effortlessly blend in with any outfit, whether you're going for a casual, boho look or a sophisticated, elegant vibe. Plus, silver is a timeless metal that never goes out of style. So, you can rock your silver chain necklace today, tomorrow, and for years to come.
How to style your ethically made Jewellery
Now that you've got your hands on an ethically made silver chain necklace, it's time to show it off! Here are a few ideas to get your creative juices flowing:
1. Layer it up
Don't be afraid to mix and match your necklaces. Layer your silver chain necklace with other delicate chains of different lengths for a trendy, bohemian look. It's all about creating that effortless, "I woke up like this" vibe.
2. Pendant power
Add a pendant to your silver chain necklace to give it a personal touch. Whether it's a dainty initial, a meaningful symbol, or a quirky charm, a pendant can take your necklace game to the next level.
3. Dress it up or down
One of the best things about silver chain necklaces is their versatility. Pair your necklace with a simple white tee and jeans for a casual, everyday look. Or, dress it up with a little black dress and killer heels for a night out on the town. The possibilities are endless!