Heart jewellery For Someone Special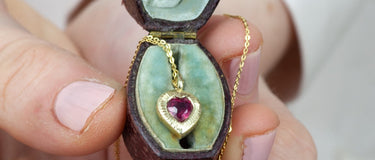 When it comes to heart jewellery, few symbols are as iconic and timeless as the heart. For centuries, the heart shape has been associated with love, passion, and romance. In the world of luxury jewellery, love heart necklaces are not only a popular design choice but also a powerful symbol of elegance and exclusivity.
Why are hearts so popular in jewellery?
The heart shape has a universal appeal that transcends cultures and generations. It represents the most profound and cherished human emotions: love and affection. When incorporated into jewellery, the heart symbolises a deep connection and serves as a reminder of the bond between two individuals.
Furthermore, hearts in jewellery have a rich history dating back to ancient civilizations. The ancient Egyptians believed that the heart was the center of the soul and emotions. They adorned themselves with heart-shaped amulets to bring love and protection.
Hearts as a statement of love
In the world of luxury jewellery, hearts are often used to create statement pieces that express love and devotion. Exquisite heart-shaped diamonds, rubies, or sapphires are meticulously crafted into stunning rings, necklaces, and bracelets. These pieces not only showcase exceptional craftsmanship but also symbolize the depth of one's affection.
Heart jewellery are also a popular choice for romantic gifts. They can be personalized with engravings or combined with other meaningful symbols, such as initials or birthstones. These love heart necklaces become cherished heirlooms, passed down through generations as a testament to enduring love.
The artistry behind heart-shaped jewellery
Creating heart-shaped jewellery requires exceptional skill and attention to detail. Jewellers meticulously cut and shape gemstones to achieve the perfect symmetry and proportions. The result is a captivating piece that captures the essence of love and beauty.
Heart-shaped jewellery is often adorned with intricate designs and embellishments. Filigree patterns, delicate engravings, and pavé-set diamonds enhance the allure of these pieces, adding a touch of sophistication and luxury.
Hearts in jewellery: a symbol of elegance
Hearts in jewellery not only represent love but also exude elegance and sophistication. The use of precious metals, such as platinum or white gold, enhances the luxurious appeal of heart-shaped pieces. The combination of exquisite craftsmanship and high-quality materials creates jewellery that is truly exceptional.
Wearing heart-shaped jewellery is a statement of refined taste and discerning style. It adds a touch of glamour to any outfit, whether it's a formal evening gown or a casual ensemble. Hearts in jewellery are a symbol of elegance that never goes out of fashion.
Conclusion
Hearts in jewellery have a timeless allure that continues to captivate and inspire. They represent the deepest emotions and serve as a symbol of love, elegance, and exclusivity. Whether it's a diamond-encrusted necklace or a delicate pendant, heart-shaped jewellery is a testament to the beauty of human connection and the artistry of fine craftsmanship.