Jewellery Symbols, Meaningful Jewellery For Her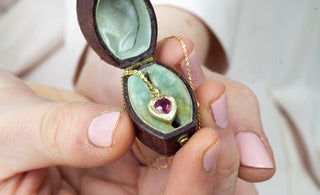 Jewellery symbols: Have you ever wondered about the hidden messages behind the jewellery you wear? Jewellery symbols have been used for centuries to convey deep meanings and emotions. In this blog post, we will explore the fascinating world of meaningful jewellery and the symbols that make them special.
What are Jewellery Symbols?
Jewellery symbols are visual representations that hold significant meanings. They can be found in various forms, such as pendants, charms, or engravings. These symbols often carry cultural, religious, or personal significance, making them powerful and cherished by those who wear them.
Unveiling the Meanings
Let's dive into some popular jewellery symbols and their meanings:
1. Leaf Jewellery 
When it comes to jewellery, nature has always been a source of inspiration. From delicate flowers to majestic trees, designers have found beauty in every aspect of the natural world. One particular element that has captured the attention of jewellery enthusiasts is leaves. With their intricate shapes and organic textures, leaves bring a touch of timeless elegance to any piece of jewellery.
2.  Flowers
The Flowers in jewellery symbolises purity and enlightenment, mirroring the exquisite bloom that emerges from muddy waters. It signifies the path of overcoming challenges and discovering inner serenity. Adorning a flower inspired piece is a constant source of strength and a catalyst for personal growth.
3. Infinity Symbol
The Infinity Symbol represents eternity and endless possibilities. It signifies everlasting love, friendship, and empowerment. Wearing an infinity jewellery can remind you of the infinite potential within yourself and the connections you share with others.
Choosing Meaningful Jewellery
When selecting meaningful jewellery, it's essential to consider your personal connection to the symbol and its significance in your life. Whether it's a birthstone necklace, a zodiac charm, or a symbol that resonates with your values, choose jewellery that speaks to your heart.
Remember, jewellery symbols  are not just fashion accessories; they carry stories, emotions, and beliefs. They have the power to inspire, uplift, and connect us to something greater than ourselves.
So, the next time you put on that special piece of jewellery, take a moment to appreciate the hidden meanings behind it. Let it be a reflection of your journey, your values, and the beautiful person you are.