Polar Bear Jewellery With Meaning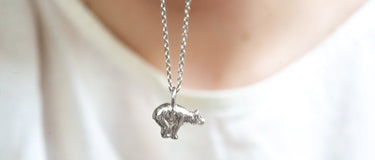 Are you looking for a unique and meaningful polar bear jewellery that embodies both style and substance? Look no further than our sterling silver polar bear necklace. This exquisite necklace is not only a stunning accessory but also a powerful symbol of strength, leadership, and love for endangered animals.
Handcrafted with Intricate Detail
Our loar bear jewellery is meticulously hand carved with intricate detail. The craftsmanship is truly exceptional, capturing the essence of these majestic creatures with remarkable precision. Each bear is a work of art, showcasing their sumptuous fur, inquisitive face, and curled-up tail in stunning silver.
A Fierce Mama Bear's Delight
For all the fierce mama bears out there, this necklace is a perfect representation of your strength and love for your family. The sterling silver polar bear pendant, measuring 1.5cm by 1.6cm, is a subtle yet powerful way to showcase your protective nature and devotion to your loved ones.
A Symbol of Conservation
By wearing our solid silver polar bear necklace, you not only adorn yourself with a beautiful piece of jewellery but also raise awareness for the conservation of these magnificent creatures. The polar bear symbolises the importance of protecting endangered species and their habitats. It serves as a reminder to stay curious, always be learning, and take action to preserve our planet's biodiversity.
An Adjustable Necklace Chain for Perfect Fit
We understand that every individual is unique, and so is their style. That's why our sterling silver polar bear necklace comes with an adjustable chain, ranging from 16 to 18 inches. You can effortlessly customise the length to suit your preference and ensure the perfect fit for any outfit or occasion.
Elegance and Exclusivity
Our sterling silver polar bear necklace embodies the essence of elegance and exclusivity. Crafted with the utmost care and attention to detail, it exudes sophistication and luxury. The choice of recycled sterling silver further adds to its allure, reflecting our commitment to sustainability and ethical practices.
Indulge yourself or surprise a loved one with this exquisite sterling silver polar bear necklace. It is a timeless piece that combines artistry, symbolism, and environmental consciousness in one stunning accessory. Embrace the strength, power, and leadership of the polar bear and make a statement that is both stylish and meaningful.