Reasons Why We Love Stud Earrings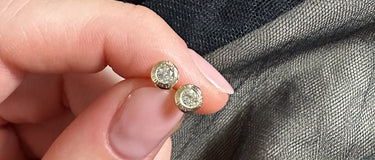 When it comes to jewellery, there's something undeniably charming about stud earrings. These tiny accessories pack a big punch, adding a touch of elegance and style to any outfit. Whether you're dressing up for a special occasion or just want to add a little sparkle to your everyday look, stud earrings are the perfect choice. Here are a few reasons why we can't help but love them:
1. They're the Perfect Blend of Simplicity and Sophistication
Stud earrings are like the little black dress of the jewellery world. They're simple, yet sophisticated, and can be dressed up or down depending on the occasion. Whether you're wearing a glamorous evening gown or a casual jeans and t-shirt combo, a pair of stud earrings will always add that extra touch of class.
2. They're Versatile and Easy to Wear
Unlike their dangly counterparts, stud earrings are incredibly versatile and easy to wear. They won't get tangled in your hair or snag on your clothes, making them the perfect choice for everyday wear. Plus, they come in a wide variety of shapes, sizes, and designs, so you can easily find a pair that suits your personal style.
3. They're Low Maintenance
Let's face it, not all of us have the time or patience to clean and polish our jewelry on a regular basis. Luckily, stud earrings require minimal maintenance. Just a quick wipe with a soft cloth and they'll be as good as new. No need to spend hours untangling chains or searching for missing earring backs!
4. They're Perfect for Mixing and Matching
One of the best things about stud earrings is that they're perfect for mixing and matching. You can create your own unique combinations by wearing different studs in each ear or by stacking multiple studs on one ear. The possibilities are endless, allowing you to express your creativity and individuality.
5. They're a Great Gift Option
Stud earrings make a great gift for any occasion. Whether you're celebrating a birthday, anniversary, or just want to show someone you care, a pair of stud earrings is always a thoughtful choice. Plus, they're available at a wide range of price points, so you can find something to suit any budget.
So, whether you're a stud earring enthusiast or new to the world of jewelry, it's easy to see why we love these tiny accessories so much. They're versatile, easy to wear, and add a touch of elegance to any outfit. So go ahead, treat yourself to a new pair of stud earrings and let your style shine!