Silver And Gold Earrings For Everyday Style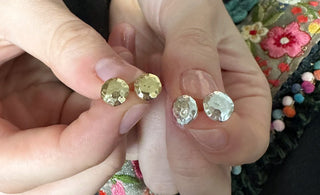 When it comes to accessorising, silver and gold earrings are a timeless choice that can elevate any outfit. Whether you're attending a glamorous event or simply want to add a touch of elegance to your everyday look, silver and gold earrings are the perfect choice. Their versatility and sophistication make them a must-have in every jewellery collection. In this blog post, we will explore different earring styles in silver and gold that are suitable for all occasions.
1. Classic Studs: Timeless Elegance
Stud earrings are a staple in any jewellery box. They are simple, yet elegant, and can be worn with any outfit. Opt for silver or gold studs with a single diamond or a precious gemstone for a touch of luxury. These earrings are perfect for both formal events and everyday wear.
2. Hoops : Effortless Glamour
Hoop earrings are a versatile choice that can instantly add a touch of glamour to any look. Choose silver or gold hoops in a medium size for a classic and sophisticated style. For a more daring look, opt for oversized hoops that make a bold statement. Hoop earrings are perfect for both casual outings and special occasions.
3. Drop Earrings: Graceful and Feminine
Drop earrings are known for their graceful and feminine appeal. They feature a decorative element that hangs below the earlobe, adding movement and elegance to your look. Silver or gold drop earrings with pearls or gemstones are perfect for formal events, while simpler designs can be worn for everyday occasions.
4. Charm hoops
These intricately-crafted charm hoop earrings add an air of sophistication to any ensemble. With their classic jewellery designs and detachable ear charms, they lend a luxurious and artful feel to any look. Perfect for accessorising any occasion. Available in silver and gold the charm hoop earrings simply make us smile. 
When it comes to silver and gold earring styles, the options are endless. Whether you prefer classic studs, glamorous hoops, graceful drops, statement chandeliers, or edgy ear cuffs, there is a style to suit every occasion and personal taste. Invest in these timeless pieces, and you'll have the perfect accessory for any event that comes your way.