What does the solitaire mean?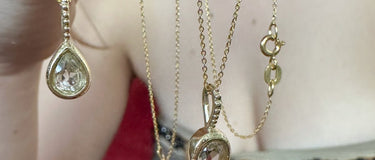 Our stunning piece solitaire stone pendants and handcrafted using recycled silver and 9ct yellow gold. These exquisite pendants are the perfect accessory to add a touch of elegance and sophistication to any outfit. Whether you prefer sterling silver or 9ct gold, there is a solitaire stone pendant that will capture your heart. 
What makes so special?
Solitaire stone pendants are known for their simplicity and beauty. Each pendant features a single, dazzling stone that takes center stage. The stone can be a variety of shapes, including princess, round, oval, and pear. No matter the shape, the stone is carefully selected for its brilliance and sparkle.
Loved for their simplicity and elegance?
There are many reasons to choose solitaire stone pendants. Firstly, they are incredibly versatile. Whether you're dressing up for a special occasion or adding a touch of glamour to your everyday look, a solitaire stone pendant is the perfect choice. It can be worn alone for a minimalist look or layered with other necklaces for a more dramatic effect.
Secondly, solitaire stone pendants are timeless. They never go out of style and can be passed down from generation to generation. Investing in a solitaire stone pendant is not only a fashion statement but also a piece of jewellery that holds sentimental value.
Which stone should you choose?
When it comes to solitaire stone pendants, the most popular choice is white topaz. White topaz is a stunning gemstone that resembles a diamond but at a more affordable price. Its brilliance and clarity make it the perfect choice for a solitaire pendant.
However, if you're looking for something more unique, there are other options to consider. Our solitaire pendants can be customised with a coloured gemstone, such as sapphire or emerald, for a pop of colour or birthstone option. 
This elegant solitaire pendant is more than just a symbol of love - it's a reminder. Crafted from sparkling stones, its unique heart shape carries a meaningful message of devotion that will last. Give a gift that shows you care. It's the perfect expression of endless love. Feel the glamour and beauty of this timeless treasure that will remind your special someone of your connection every day. Give a gift that will make their heart flutter!
A S
ymbol Of Enduring Love
A reminder of eternal affection. Between friends, the diamond necklace symbolises undying loyalty, and lovers are reminded of an unending bond. Feel the meaning of love every day with this meaningful keepsake. A single diamond catches the light wit
h your every move, expressing the strength and beauty of your relationship.
Whether you're treating yourself or looking for a special gift for a loved one, solitaire stone pendants are a beautiful choice. Their timeless elegance and versatility make them a must-have accessory for any jewellery lover. So why wait? Discover the beauty of solitaire stone pendants today and let your style shine!