Something Blue Jewellery Pieces for Your Wedding Day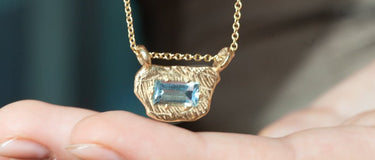 When it comes to your wedding day, every detail matters. From the dress to the flowers, everything should be perfect. One important aspect that often gets overlooked is the jewellery. Choosing the right pieces can elevate your bridal look and add a touch of elegance and sophistication. In this blog post, we will explore the world of "something blue" jewellery and how it can enhance your wedding day ensemble.
What is are the traditions in weddings? 
Before we dive into the world of jewellery, let's first understand its significance. Something blue bridal jewellery is a traditional bridal token that symbolises purity, love, and fidelity. It is believed to bring good luck to the bride and her marriage. While there are many ways to incorporate "something blue" into your wedding jewellery is a timeless and elegant choice.
1. Blue Stone Necklaces
For a classic and sophisticated look, a precious blue necklace is the perfect choice. The deep blue hue of the sapphire adds a touch of regality to your ensemble. Whether you opt for a simple pendant or a statement necklace, this piece will surely turn heads as you walk down the aisle.
2. Aquamarine Earrings
If you prefer a more subtle and delicate look, aquamarine earrings are a great option. The light blue color of the aquamarine gemstone evokes a sense of calmness and serenity. These earrings will beautifully complement any wedding dress style and add a touch of ethereal beauty to your overall look.
3. Blue Topaz Bracelet
For a modern and glamorous look, a blue topaz bracelet is the way to go. The vibrant blue color of the topaz gemstone adds a pop of color and sophistication to your wrist. Whether you choose a dainty chain bracelet or a bold cuff, this piece will add a touch of luxury to your bridal ensemble.
Remember, your wedding day is a celebration of love and commitment. Choosing the right "something blue" jewelry will not only enhance your bridal look but also serve as a beautiful reminder of your special day. So, embrace the tradition and add a touch of elegance and sophistication with these stunning blue jewelry pieces.