Statement Earrings, let your ears do the talking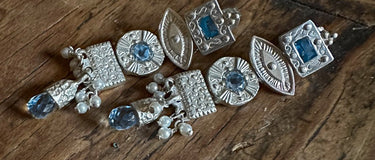 Are you tired of blending in with the crowd? Do you want to stand out and make a fashion statement that screams "Look at me!"? Well, look no further than statement earrings! These eye-catching accessories are the perfect way to add a touch of personality and pizzazz to any outfit. Whether you're attending a fancy event or just running errands, statement earrings are sure to turn heads and make you feel like the fashionista you truly are.
What are statement earrings, anyway?
Before we dive into the fabulous world of statement earrings, let's clarify what they actually are. Statement earrings are bold, oversized, and attention-grabbing earrings that are designed to make a statement (hence the name). They come in a variety of shapes, sizes, and colours, and are often adorned with intricate details, gemstones, or unique materials. These earrings are not for the faint of heart - they are for those who want to make a big impression and show off their individual style.
Why should you wear statement earrings?
Why not, we say! Statement earrings are the perfect way to add a pop of personality to any outfit. They can instantly elevate a simple jeans-and-t-shirt combo or add a touch of glamour to a little black dress. Plus, they're a great conversation starter! You'll be amazed at how many compliments and questions you'll receive when you rock a pair of statement earrings.
How to rock statement earrings like a pro
Now that you're convinced that statement earrings are the way to go, let's talk about how to wear them like a pro. First and foremost, confidence is key. Own your bold choice and wear your statement earrings with pride. Secondly, keep the rest of your outfit relatively simple. Let your earrings be the star of the show and avoid overwhelming your look with too many competing elements. Lastly, have fun with it! Mix and match different styles, colours, and textures to create your own unique look.
So, what are you waiting for? It's time to make a bold fashion statement with statement earrings. Embrace your unique style, have fun with your accessories, and get ready to turn heads wherever you go. Remember, life is too short to blend in - so go ahead and stand out with a pair of fabulous statement earrings!