How to choose the perfect name necklace?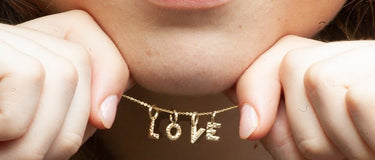 Are you looking for a unique and meaningful gift for someone special? Look no further than name necklaces. These personalised pieces of jewellery have become increasingly popular in recent years, and for good reason. In this blog post, we will explore why name necklaces are the perfect gift for any occasion.

 What makes name necklaces so special?
Name necklaces allow you to express your individuality and create a one-of-a-kind piece of jewellery. By personalising a necklace with a name or word that holds significance, you are giving a gift that is truly unique and meaningful. Whether it's a loved one's initial or a word that represents a cherished memory, name necklaces are a beautiful way to celebrate and honour the people and moments that matter most.
Why are name necklaces a great gift idea?
1. Personalised touch: Name necklaces show that you've put thought and effort into selecting a gift. It demonstrates that you know the recipient well enough to choose something that reflects their personality and style.
2. Versatility: Name necklaces come in various styles, fonts, and materials, making them suitable for people of all ages and tastes. Whether it's a delicate gold necklace or a bold silver pendant, there is a name necklace to suit every individual.
3. Timeless appeal: Name necklaces never go out of style. Unlike trendy fashion accessories that may lose their appeal over time, a name necklace is a timeless piece that can be cherished for years to come.
4. Sentimental value: The sentimental value of a name necklace is unmatched. It is a constant reminder of the bond between the giver and the recipient. Every time the wearer looks at the necklace, they will be reminded of the special connection they share with the person who gave it to them.
How to choose the perfect name necklace?
When selecting a name necklace, consider the recipient's personal style and preferences. Think about the material, font, and length that would best suit their taste. Additionally, take into account the occasion for which you are giving the necklace. A dainty and elegant necklace may be more suitable for a formal event, while a bold and chunky design could be perfect for everyday wear.
Remember, the beauty of name necklaces lies in their personalization. By choosing a name or word that holds meaning, you are creating a gift that is as unique as the person receiving it.
Letter necklaces & There Meanings 
Our Heart letter necklaces are crafted from recycled silver or 9ct gold. We enjoy pairing the personalised hearts with initials of family and friends, creating a beautiful blend of metals.
Disc letter pendants have a modern layering look and feel, our customers love adding pets initial missed with family members. Once again you can choose from silver, 9ct gold or a mix of both metals 
Dainty silver and gold letters, can be worn minimally with a solo letter or layered to make up combinations of word and names. 
In conclusion
Name necklaces are the perfect personalised gift for any occasion. They allow you to express your love and appreciation in a unique and meaningful way. With their timeless appeal and sentimental value, name necklaces are sure to be cherished for years to come. So, whether you're celebrating a birthday, anniversary, or just want to show someone you care, consider a name necklace as the perfect gift choice.