What makes branch style rings so special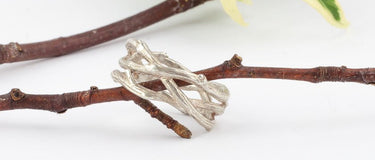 What makes tree style rings so special?
branch rings are a stunning and unique addition to any jewelry collection. Inspired by the beauty of nature, these rings capture the essence of delicate branches and bring a touch of elegance to your hand. Crafted with precision and attention to detail, branch style rings are a true work of art.
How are twig bands created?
Our tree branch rings are meticulously handcrafted. Using the finest materials, such as sterling silver or gold, these rings are carefully shaped and textured to resemble the intricate details of a tree. The result is a piece of jewellery that is both delicate and bold, making a statement wherever you go.
Why should you choose a the design?
Branch style rings offer a unique and sophisticated alternative to traditional ring designs. Their organic and nature-inspired aesthetic sets them apart from other jewelry pieces, making them a perfect choice for those who appreciate artistry and individuality. Whether you're attending a special event or simply want to add a touch of elegance to your everyday look, a branch style ring is sure to make a statement.
Nature Inspired styles?
Their versatile design allows them to be worn alone as a statement piece or stacked with other rings for a more personalised look. Whether you're dressing up for a formal event or going for a casual chic vibe, a branch style ring will effortlessly elevate your style.
Where to find the perfect Design?
When it comes to finding the perfect branch style ring, it's important to choose a designer who specialises organic jewellery designs . Artisans who have a passion for their craft and a commitment to creating exceptional pieces. By investing in a branch or twig band, you can be confident that you're getting a piece of jewellery that is not only beautiful but also built to last.
Conclusion
A true testament to the beauty of nature and the artistry of jewelry making. With their unique design and elegant aesthetic, these rings are a must-have for anyone who appreciates fine craftsmanship and individuality. Whether you're treating yourself or looking for the perfect gift, it is sure to leave a lasting impression.
See our branch and twig rings Here