White Stone Pendants, A little Bit Of Sparkle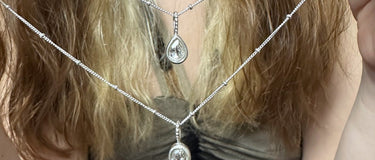 What are Stone Pendants?
White stone pendants are exquisite pieces of jewellery that add a touch of elegance and sparkle to any outfit. These pendants are crafted using various types of stones, such as white topaz, and are often adorned with intricate designs. They are typically worn on a necklace chain and can be customised to suit individual preferences.
Why Choose Stone Pendants?
Stone pendants are a popular choice among jewellery enthusiasts for several reasons. Firstly, they offer a unique and eye-catching appeal. The natural beauty of the clear stones, combined with expert craftsmanship, creates a stunning piece of jewellery that is sure to turn heads.
Secondly, white and clear stone pendants allow individuals to express their personal style. With a wide range of stone options available, including white topaz, individuals can choose a pendant that resonates with their personality and preferences. Whether you prefer a minimalist design or a bold statement piece, there is a stone pendant for everyone.
How to Style Stone Pendants?
Stone pendants can be styled in various ways to create different looks. Here are a few ideas to get you started:
Layering: Pair your stone pendant with other necklaces of different lengths to create a trendy layered look. Mix and match different pendant designs and chain styles for a unique and personalised ensemble.
Statement Piece: Opt for a larger stone pendant with intricate detailing to make it the focal point of your outfit. Keep the rest of your accessories minimal to let the pendant shine.
Everyday Elegance: Choose a smaller, dainty stone pendant for a subtle yet sophisticated touch. This style is perfect for everyday wear and can be easily paired with both casual and formal attire.
Amulette Jewellery Gemstone Charms 
Our stone set pendants and necklaces come in a variety of shapes including, princess, solitaire, oval, pear shaped and gorgeous bullets set with sparkling white topaz charm necklaces.
Conclusion
Stone pendants are a fantastic way to add a hint of sparkle and elegance to your outfits. Whether you prefer the timeless beauty of white topaz or the allure of sparkling charm necklaces, there is a stone pendant out there that will perfectly complement your style. So go ahead, explore the world of stone pendants and discover the perfect piece to enhance your jewellery collection.