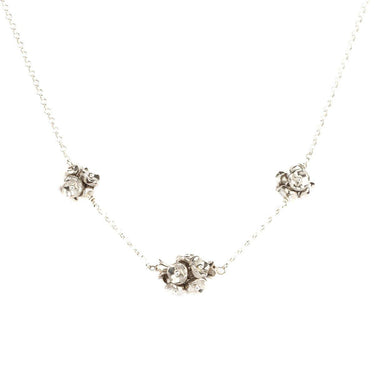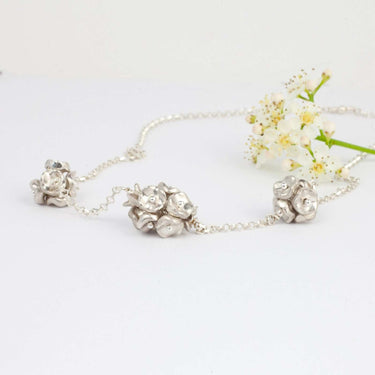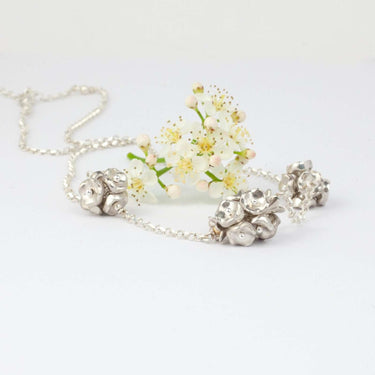 Blossom Flower Silver Cluster Necklace
An apple blossom flower silver cluster necklace with X3 floral ball clusters of flowers. Handmade from recycled silver and suspended from an adjustable 16 to 18-inch curb necklace chain.
Sculpted flowers clustered together to form a blossom bouquet with its sense of whimsy and floral beauty this necklace is perfect for layering or simply wearing solo.
With its floral bouquet is perfect for layering or simply wearing solo. The apple blossom is a symbol of innocence and purity, along with the promise of spring, new growth and regeneration.
It also represents youth, beauty and joyous love. The blooms adds a touch of class to any occasion. Add a hint of boho with our luxurious necklace, a must-have for adding a touch of summer chic to your look.
Team it with our coordinating blossom earrings and bangles for a complete look. The blossom flower silver cluster necklace hangs from an adjustable silver chain , giving it a sense of whimsical charm and making it an ideal gift.
Why We Love It

Flower cluster measures 3cm
Made from recycled sterling silver
Handmade in the UK
Adjustable chain necklace 16 to 18 inches
People & Planet

Our eco-friendly methods of crafting jewellery helps reduce the need for mining precious metals. Each piece is meticulously handmade by our small team using traditional jewellery techniques and conscious practices.

Our commitment to the environment can be seen in our use of plastic-free packaging and our efforts to minimize our environmental footprint. With our sustainable alternative, we are not just reducing the demand for precious metals, but also inspiring others to make conscious choices for a better future.

We understand that there is a lot of work ahead of us, but we are fully dedicated to an ethical jewellery practice which protects and support our precious world.
Returns
Delivery