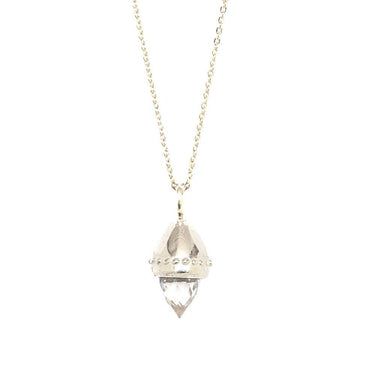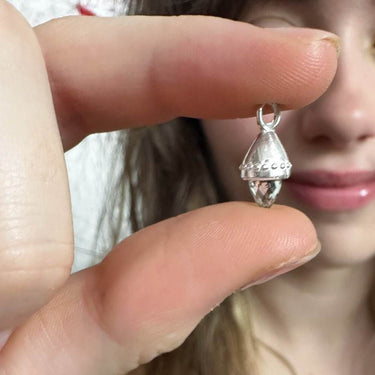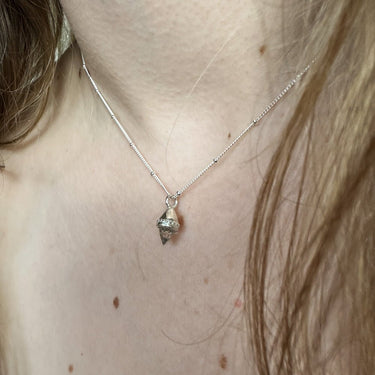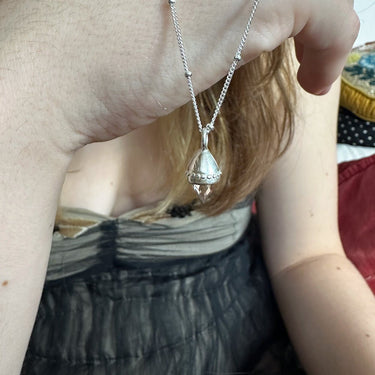 Bullet Healing Crystal Point Necklace
Meet your new protection charm: Our bullet healing crystal point necklace! This sleek precious white topaz piece of jewellery packs a high-energy punch, with its silver cone cap and natural healing crystal point nestled in a silver bullet casing. Rock this necklace to feel confident and ready to take on the world! 
This magnetic bullet gem dazzles with tiny ball detail and sparkling topaz point. Double up with a layered look, or luxuriate in its solo splendor!
Be dazzled with this luxe white topaz pendant, which signals optimism, love, abundance, and good fortune. Put it on a 16" or 18" sterling silver satellite chain. 
The twinkle of the white topaz healing crystal point necklace puts a sparkle in every step. Whether it's for a special event or just a little something, this necklace will make you shine!
From retro to rockin', layer your go-to necklaces — and let the sparkle in, adding that special Amulet charm!
Crafted with care & traditional jewellery making techniques, Lisa's handmade jewellery comes to life using a lost wax method - an ethical choice!
Why We Love It

Made from recycled sterling silver
Point pendant Size 2.2cm including bail
Completed with satellite necklace chain
Handcrafted in the UK
Made from recycled sterling silver
Wearing quartz crystals has been associated with balance, clarity and energy, and credited with ben
People & Planet

Our eco-friendly methods of crafting jewellery helps reduce the need for mining precious metals. Each piece is meticulously handmade by our small team using traditional jewellery techniques and conscious practices.

Our commitment to the environment can be seen in our use of plastic-free packaging and our efforts to minimize our environmental footprint. With our sustainable alternative, we are not just reducing the demand for precious metals, but also inspiring others to make conscious choices for a better future.

We understand that there is a lot of work ahead of us, but we are fully dedicated to an ethical jewellery practice which protects and support our precious world.
Returns
Delivery