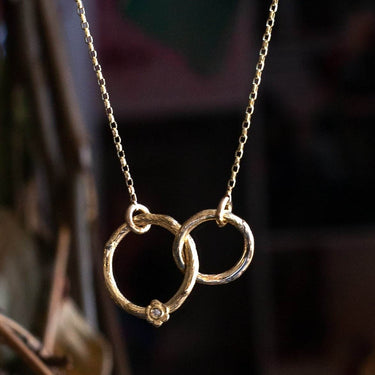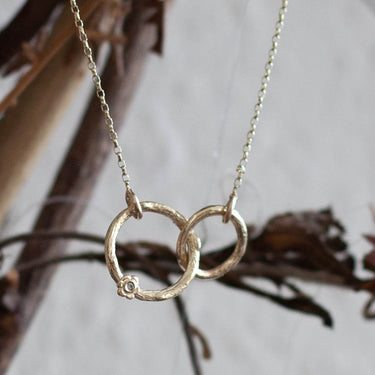 Gold Interlocking Circle Necklace
A 9ct solid gold interlocking circle necklace with a diamond set flower is made from recycled gold. A light, modern design that adds just the right amount of sparkle to your wardrobe.
The necklace is a timeless jewellery design that never goes out of style. Symbolising love, eternity and infinity, enjoy wearing year after year.
The delicate necklace are a reminder of nature's beauty. Cast from solid gold, the circle is an elegant twist on a classic design. The perfect everyday necklace and a reminder of the power we all have to make our lives meaningful.
The double circle is a symbol of completeness, while diamonds represent purity, strength, and all that is precious.
Bejewel your every outfit with this minimalist necklace. Complete the look with our matching flower ring bands and stud earrings.
The diamond set gold interlocking circle necklace features interlocking circles with diamond accents that lay gently on your neckline.
The dainty gold necklace is perfect for everyday wear. This piece would make an ideal gift for birthdays, anniversaries, wedding days, or simply as a treat for yourself.
Why We Love It

Adjustable 16 to 18 inches
Double Circles Dimensions 19mm
Diamond accent (0.05ctw)
Made from recycled 9ct yellow gold
The interlocking circle necklace is a touching way to show your endless devotion
People & Planet

Our eco-friendly methods of crafting jewellery helps reduce the need for mining precious metals. Each piece is meticulously handmade by our small team using traditional jewellery techniques and conscious practices.

Our commitment to the environment can be seen in our use of plastic-free packaging and our efforts to minimize our environmental footprint. With our sustainable alternative, we are not just reducing the demand for precious metals, but also inspiring others to make conscious choices for a better future.

We understand that there is a lot of work ahead of us, but we are fully dedicated to an ethical jewellery practice which protects and support our precious world.
Returns
Delivery