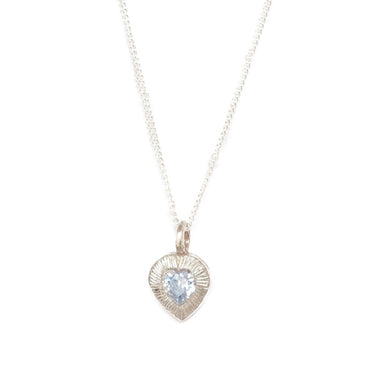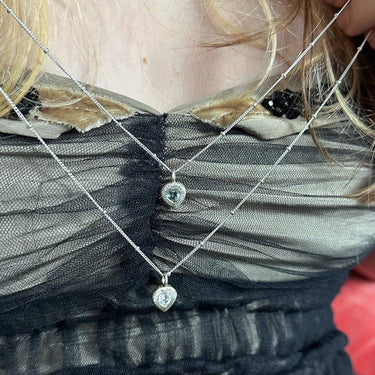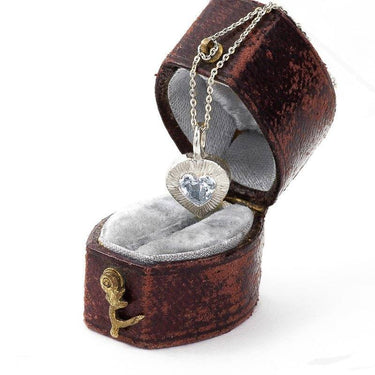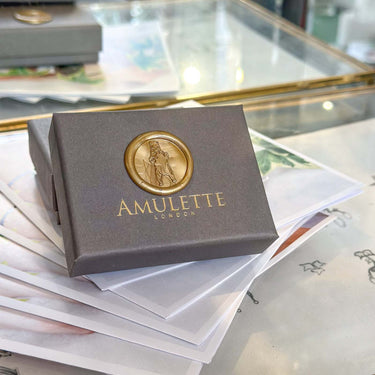 Silver Aquamarine Heart Pendant
Something blue, this sterling silver aquamarine heart pendant is a token of glittering adoration, Adding a perfect touch of sparkle to any outfit. Measuring 1.1 cm and comes suspended on an adjustable necklace chain 16 to 18 inches.
This blue heart shaped necklace has teeny tiny line detailing around the stones setting this token of love smile makes us smile. A simple Amulet heart-shaped pendant with a story to tell.
A wonderful something blue gift for wedding days or a token of love this aquamarine heart pendant is the perfect mix of silver and sparkles. The blue heart symbolises love, be it for a loved one, or friend, or simply saying "I've got you".
This silver aquamarine heart pendant covers all bases as An ideal piece of jewellery for gifts for weddings, birthdays, Anniversaries, or simply a token of love.
Our go-to necklace for layering or simple sparkling solo. The handcrafted necklace has exquisite detailing offering a hint of lux.
Why We Love It

Adjustable silver chain necklace - 16 to 18 inches
Made from recycled sterling silver
Handmade in the UK
Aquamarine heart 5mm
Birthstone for March
Pendant size 1.2cm
People & Planet

Our eco-friendly methods of crafting jewellery helps reduce the need for mining precious metals. Each piece is meticulously handmade by our small team using traditional jewellery techniques and conscious practices.

Our commitment to the environment can be seen in our use of plastic-free packaging and our efforts to minimize our environmental footprint. With our sustainable alternative, we are not just reducing the demand for precious metals, but also inspiring others to make conscious choices for a better future.

We understand that there is a lot of work ahead of us, but we are fully dedicated to an ethical jewellery practice which protects and support our precious world.
Returns
Delivery