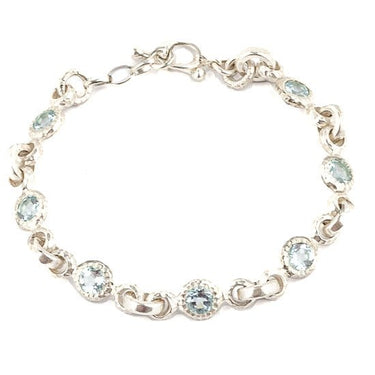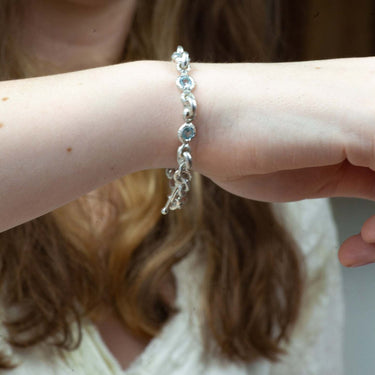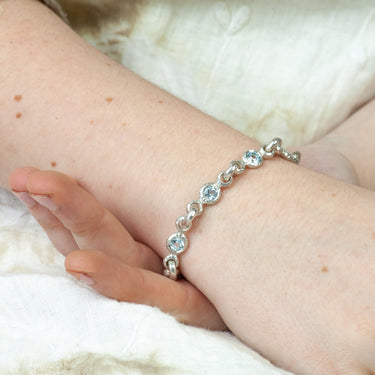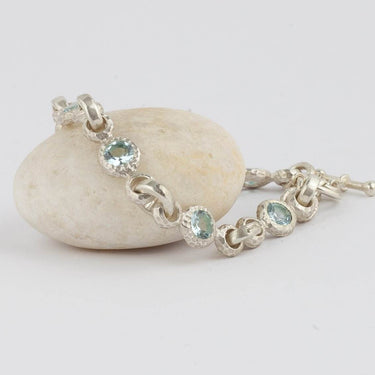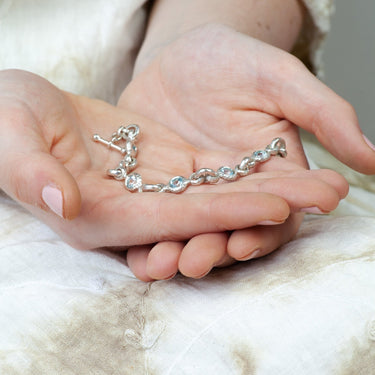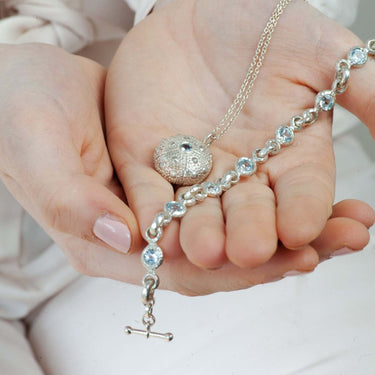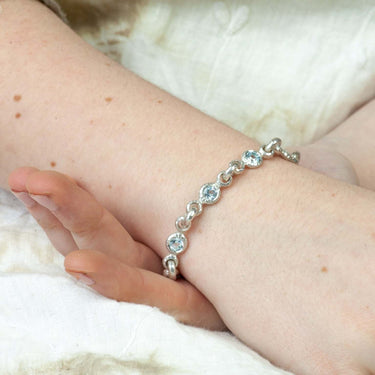 Sterling Silver Blue Topaz Bracelet
Something blue, a chunky sterling silver blue topaz bracelet set with twinkling blue topaz faceted stones. The organic gemstone chain links catch the light beautifully a truly unique piece.
Measuring 7.5inches and features X7 topaz gems cast into recycled sterling silver.This charming blue topaz piece makes a treasured heirloom piece. With its organic chain and topaz accents, this jewel is designed to be worn with effortless chic.
Sassy and full of charm, the handmade gemstone silver chain link bracelet is hip, diverse, and laid back. A row of X7 soft round cut topaz gemstones delightfully mixed with a classic, textured handmade chunky chain dance in the light.
The birthstone November born babies the pastel blue hues on this cast into silver compliment one another perfectly. The silver bracelet can be custom made with your favourite mix of gemstones.
The glowing arm candy and be mixed, and matched with our handmade bangles to create an arm party or simply worn solo this beauty does the work!
This silver blue topaz bracelet would make a luxurious gift for wedding days, birthdays, or simply a treat for yourself. A piece that will stand the test of time and in luxurious style.
Why We Love It

Silver bracelet measures 7 inches with toggle clasp
Set with X7 Sky Blue Topaz
Handmade in the UK
Handmade chain links
Made from solid recycled silver
People & Planet

Our eco-friendly methods of crafting jewellery helps reduce the need for mining precious metals. Each piece is meticulously handmade by our small team using traditional jewellery techniques and conscious practices.

Our commitment to the environment can be seen in our use of plastic-free packaging and our efforts to minimize our environmental footprint. With our sustainable alternative, we are not just reducing the demand for precious metals, but also inspiring others to make conscious choices for a better future.

We understand that there is a lot of work ahead of us, but we are fully dedicated to an ethical jewellery practice which protects and support our precious world.
Returns
Delivery