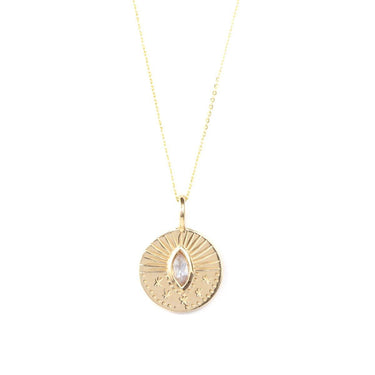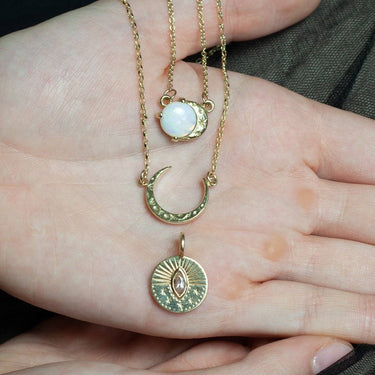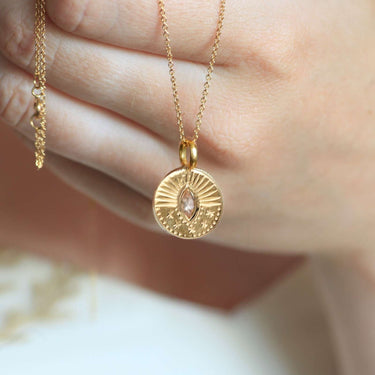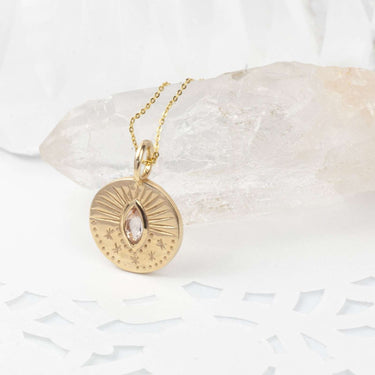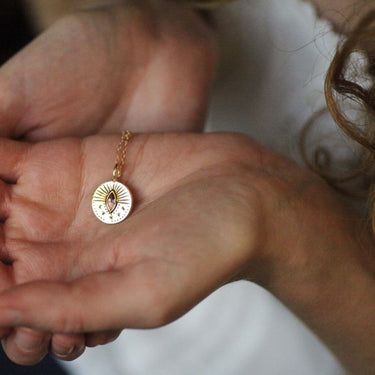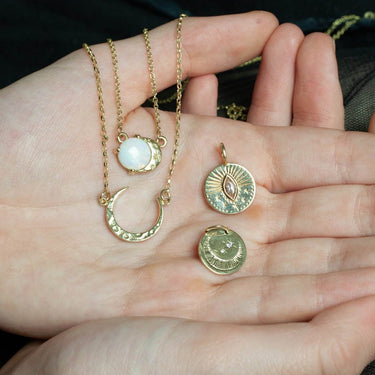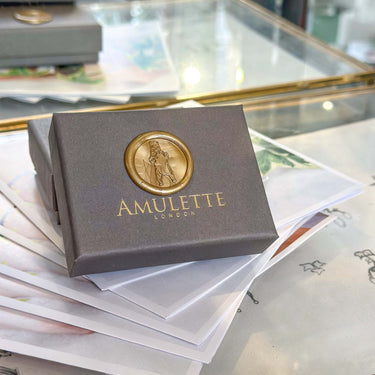 Sun And Moon Necklace 9ct Gold
9ct gold eclipse sun and moon necklace features a sun and moon balanced with a marquise moonstone, set within a 1.6cm frame. Handcrafted with an adjustable diamond cut chain, it can be worn from 16 to 18inches for optimum luxury and comfort.
Accented with marquise moonstone engraved stars, and sunray details offer a combination of celestial whim and vintage, giving this gold necklace an edgy spin on a timeless motif.
Featuring glittering sunrays, stars, and a central marquise, this piece offers the perfect amount of midnight sparkle for the powerful, change-making women in your life.
The moon has long symbolised and celebrated the feminine moon goddess and female empowerment. The moon also symbolises change, as it transforms into a full moon and then back.
This sweet and celestial piece the sun and moon necklace is great for adding a little cosmic wonder to your look. This necklace can be teamed with our crescent moon necklace and star earrings for celestial bliss.
Why We Love It

Gold coin measures 1.6cm
Made from recycled 9ct yellow gold
This necklace symbolises new beginnings and the potential for change.
Handmade in the UK
Engraved stars and moonstone accent
People & Planet

Our eco-friendly methods of crafting jewellery helps reduce the need for mining precious metals. Each piece is meticulously handmade by our small team using traditional jewellery techniques and conscious practices.

Our commitment to the environment can be seen in our use of plastic-free packaging and our efforts to minimize our environmental footprint. With our sustainable alternative, we are not just reducing the demand for precious metals, but also inspiring others to make conscious choices for a better future.

We understand that there is a lot of work ahead of us, but we are fully dedicated to an ethical jewellery practice which protects and support our precious world.
Returns
Delivery