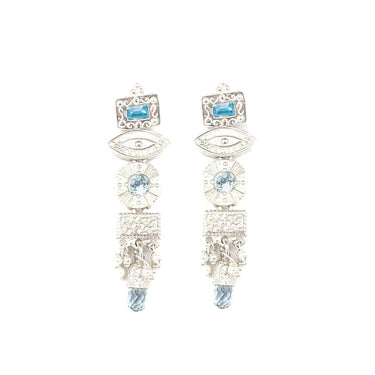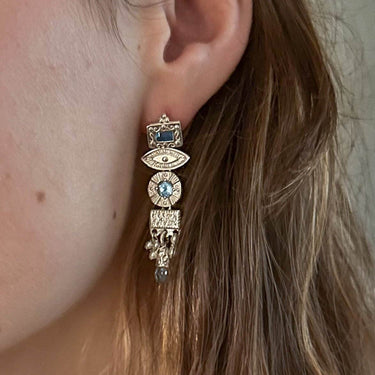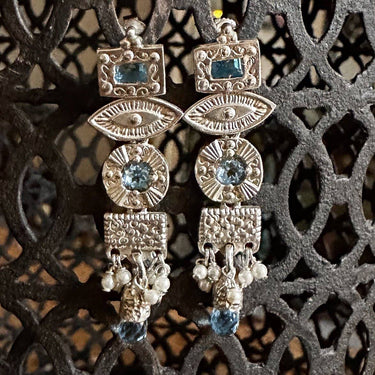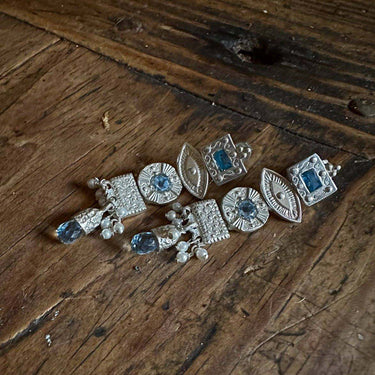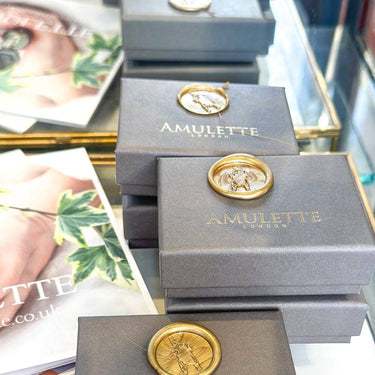 Topaz Totem Geometric Drop Earrings
Totem blue topaz geometric earrings with blue topaz and aquamarine accents and pearl tassels. Cast into recycled sterling silver.
The statement totem earrings feature stone set designs with a feature evil eye, the Amulet designs work effortlessly with blue topaz accents.
Statement and designed to be noticed the geometric drop earrings have been hand carved to form a perfect symmetry.
The Talisman, Also known as amulets, totems, or good luck charms, are worn to project one's present feelings, as well as their hopes for the future.
The statement blue topaz geometric earrings can be worn solo or paired with studs and hoops for a tribal vibe. Worn solo the unusual design and textures catches the light beautifully. A thoughtful gift for an artsy lady who loves unique jewellery.
The geometric drop earrings are our go to pair for adding a hint of uniqueness.
Why We Love It

Earring drop 5.5cm
Made From Recycled Silver
Blue Topaz Aquamarine Stones
Handmade in the UK
People & Planet

Our eco-friendly methods of crafting jewellery helps reduce the need for mining precious metals. Each piece is meticulously handmade by our small team using traditional jewellery techniques and conscious practices.

Our commitment to the environment can be seen in our use of plastic-free packaging and our efforts to minimize our environmental footprint. With our sustainable alternative, we are not just reducing the demand for precious metals, but also inspiring others to make conscious choices for a better future.

We understand that there is a lot of work ahead of us, but we are fully dedicated to an ethical jewellery practice which protects and support our precious world.
Returns
Delivery