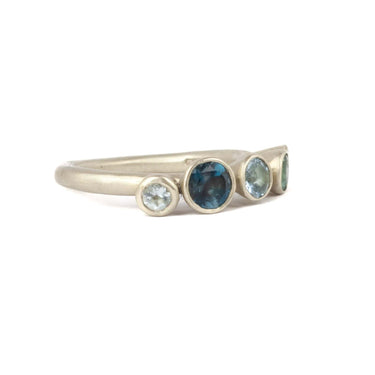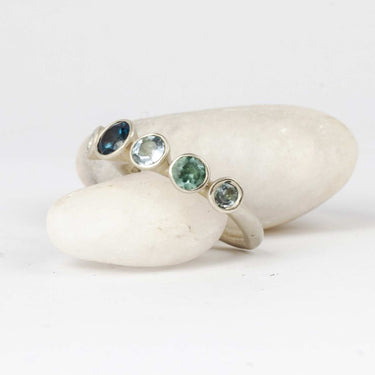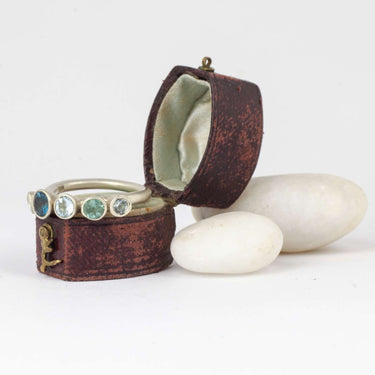 Aquamarine And Tourmaline five Stone Ring
Aquamarine and tourmaline ring five stone ring cast into 18ct gold. The sea hues of this cascading gemstone ring makes a beautiful addition to any jewellery box.
A mixture of handpicked precious stones in varying sizes is scattered across this unique band. The blue gemstone cluster mix of stones is surrounded by a chunky band, set with tourmaline and aquamarines in tulip style bezel settings.
A Celebration of love in a one-of-a-kind style unique ring. This blue gemstone ring features all the right character traits: a contemporary frame cast in solid 18ct gold.
Available in 18k white or yellow gold bezel and framed this five stone ring can also be customised with your favourite coloured stones. This ring is custom made to order in your size within 6 weeks.
This stunning five stone cluster ring is the ultimate statement piece for an unforgettable bridal look. The sumptuous aquamarine and tourmaline ring makes an exquisite engagement ring for an unconventional bride or a fabulous right-hand ring alike.
Why We Love It

Made from recycled 18ct white gold
Round Ring Band 3mm
X2 Tourmaline, X1 aquamarine X2 white sapphires
Handmade in the UK
Five stone cluster ring
People & Planet

Our eco-friendly methods of crafting jewellery helps reduce the need for mining precious metals. Each piece is meticulously handmade by our small team using traditional jewellery techniques and conscious practices.

Our commitment to the environment can be seen in our use of plastic-free packaging and our efforts to minimize our environmental footprint. With our sustainable alternative, we are not just reducing the demand for precious metals, but also inspiring others to make conscious choices for a better future.

We understand that there is a lot of work ahead of us, but we are fully dedicated to an ethical jewellery practice which protects and support our precious world.
Returns
Delivery