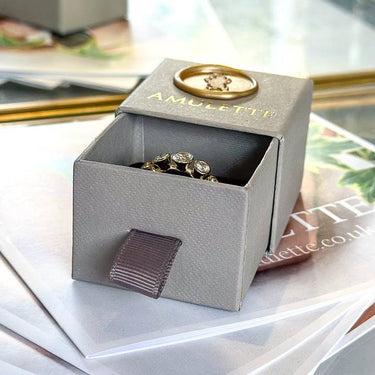 Wide Band Diamond Ring With Laurel Leaves
Our exquisite Wide Band Diamond Ring With Laurel Leaves, a true testament to elegance and craftsmanship. Handcrafted into 18ct Gold.
This handmade masterpiece features a stunning leaf design, intricately carved and adorned with interlocking laurel leaves, accentuated with a sparkling diamond.
The wide band, with its luxurious thickness, adds a touch of boldness to this delicate piece.With X8 diamonds scattered around the front of the ring and laurel leaf detailing this wide band diamond ring would make a perfect alternative engagement ring or right hand alike.
The maple leaf is a symbol of pure and true love, we love this sentiment! An ideal addition to any stack this nature themed piece would suite a nature-loving bride. Perfect for any occasion, this gold ring will make a lasting impression.
Embrace the allure of nature and adorn yourself with this wide band diamond ring, a true work of art.
Why We Love It

Ring size 1.2cm at widest point
Set with X8 SI Diamonds colour (G TO H)
Made from recycled 18ct gold
Handmade in the UK
Leaves trailing all the way around the ring band
People & Planet

Our eco-friendly methods of crafting jewellery helps reduce the need for mining precious metals. Each piece is meticulously handmade by our small team using traditional jewellery techniques and conscious practices.

Our commitment to the environment can be seen in our use of plastic-free packaging and our efforts to minimize our environmental footprint. With our sustainable alternative, we are not just reducing the demand for precious metals, but also inspiring others to make conscious choices for a better future.

We understand that there is a lot of work ahead of us, but we are fully dedicated to an ethical jewellery practice which protects and support our precious world.
Returns
Delivery