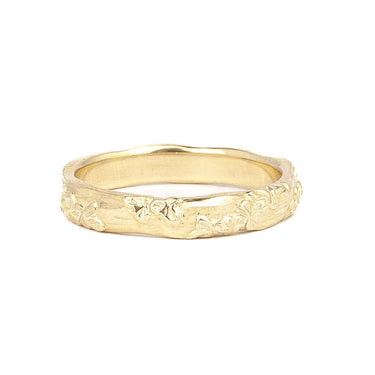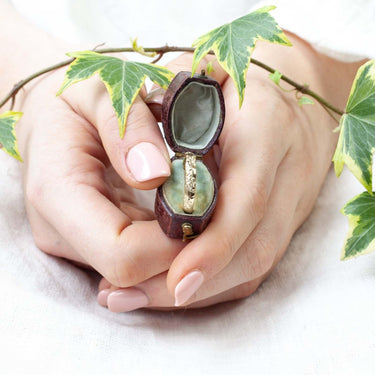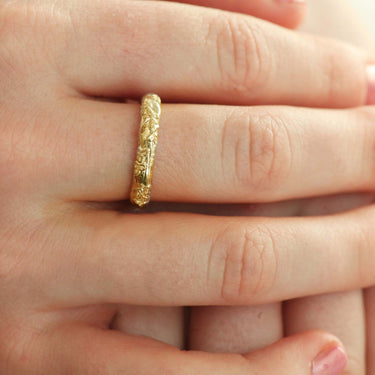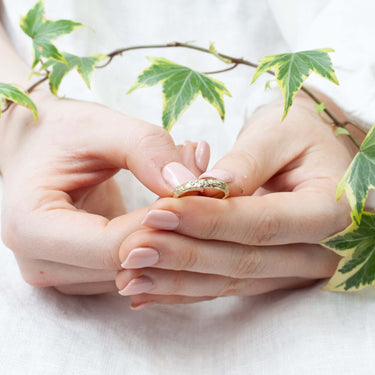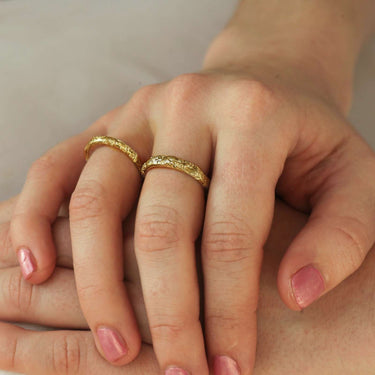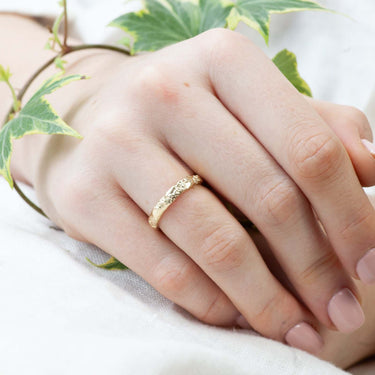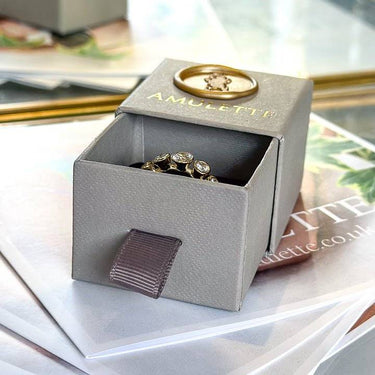 Branch Wedding Ring Ivy Leaves
A Branch wedding ring with ivy leaves trailing around the band in 18ct gold. Measuring 5mm in width and has a branch texture. This band can also be custom made in your metal of choice with 4 weeks. 
A delicate vine on a ring is a romantic symbol of love and loyalty. The nature of ivy, captivated by this sentiment we could think of no more ideal symbol for a wedding ring. truly special.
A hand-sculpted trail of leaves circles this 5mm wide wedding ring . Wear it alone or stacked with your favourite twiggy bands. The devils in the details, hand engraved ivy leaf pattern to signify the fidelity found in true love and great friendship.
The Botanical equivalent of 'till death do us part, this unique Gold branch band features a riveting trail of ivy leaves that wrap around the ring, holding your love forever.
The branch wedding ring adorns your finger with the beauty of the outdoors, giving you a touch of nature's artistry wherever you go.
The gold branch ring makes an ideal promise, commitment, and wedding ring. A romantic gift for the bride that's perfect for a modern nature themed wedding.
Why We Love It

Made from recycled 18ct gold
Handcrafted in the hand carved leaf design
Matching rings available
Handmade in the uK
People & Planet

Our eco-friendly methods of crafting jewellery helps reduce the need for mining precious metals. Each piece is meticulously handmade by our small team using traditional jewellery techniques and conscious practices.

Our commitment to the environment can be seen in our use of plastic-free packaging and our efforts to minimize our environmental footprint. With our sustainable alternative, we are not just reducing the demand for precious metals, but also inspiring others to make conscious choices for a better future.

We understand that there is a lot of work ahead of us, but we are fully dedicated to an ethical jewellery practice which protects and support our precious world.
Returns
Delivery