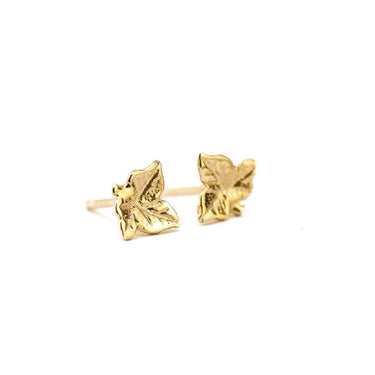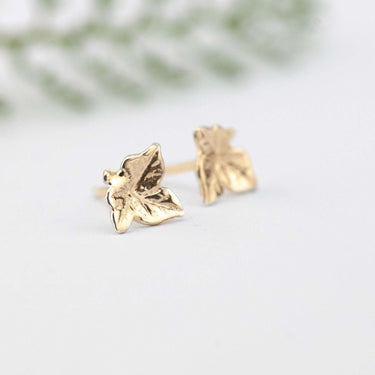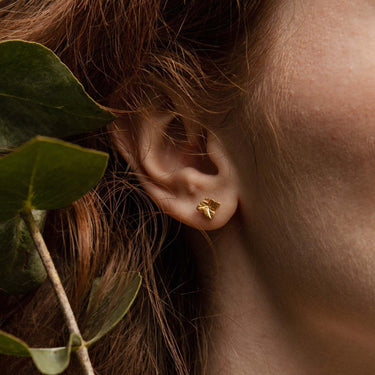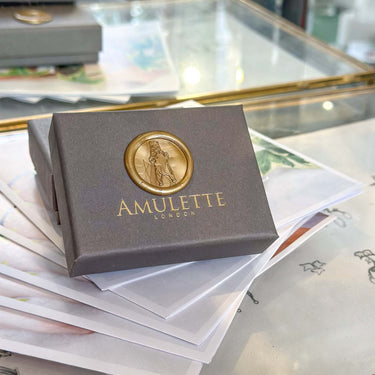 9ct gold leaf earrings measuring 6mm and handcrafted in recycled gold. These miniature ivy leaves are positioned on push-back ear posts.
Whimsical and wild, we love how the miniature vine leaves grace the lobes with their natural texture.
Accented with realistic leaf detail, the gold ivy earrings are a perfectly stylish way to bring the splendor of the outdoors with you everywhere you go. An exceptional gift inspired by nature's brilliance.
The ivy leaf Ivy is a beautiful plant dripping in history and mythology. In the past, it was given as a gift to newlyweds to symbolise everlasting love and loyalty. The ivy represents the deepest and most enduring of love, a perfect gift for friends, sisters, and mothers.
You can pair the 9ct gold leaf studs with our blossom earrings and ivy leaf rings which team perfectly together in natural style.
A thoughtful gift for birthdays, anniversaries or a treat for yourself, this woodland inspired ivy earrings are simple and deliciously cute.
Why We Love It

Made from recycled gold
Handmade in the UK
Stud earrings size 0.6cm
People & Planet

Our eco-friendly methods of crafting jewellery helps reduce the need for mining precious metals. Each piece is meticulously handmade by our small team using traditional jewellery techniques and conscious practices.

Our commitment to the environment can be seen in our use of plastic-free packaging and our efforts to minimize our environmental footprint. With our sustainable alternative, we are not just reducing the demand for precious metals, but also inspiring others to make conscious choices for a better future.

We understand that there is a lot of work ahead of us, but we are fully dedicated to an ethical jewellery practice which protects and support our precious world.
Returns
Delivery