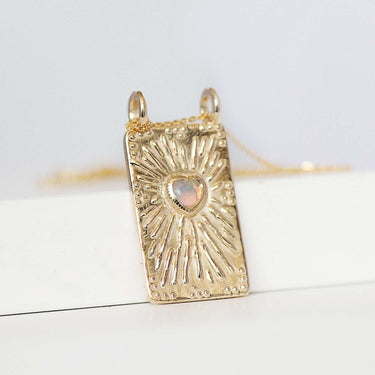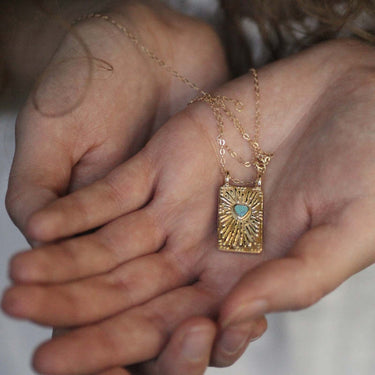 9ct Gold Rectangle Pendant Necklace
9ct gold rectangle pendant necklace with precious opal stone heart and engraved sunbeam detail. Personalise with your favourite gemstone including, sapphire, ruby, diamond, emerald, and opal.
From ancient times to today, opals have captivated the minds and hearts of many. This beautiful opal necklace captures the magic of nature's most magical gemstone in a brilliant drop of opal that is sure to capture attention and inspire admiration.
This rectangle pendant necklace necklace is engraved with starburst rays and intricate bezel detail.
The appreciation for natural imperfection is clear in the beautifully unique, real opal heart that sits at the center of it all, bringing a welcome touch of vibrance to your everyday jewellery collections.
Why We Love It

This necklace comes on an adjustable 16 to 18-inch
You can customise this necklace with your birthstone or favourite gem
Custom made to order please allow up to 3 weeks for delivery.
Handmade in recycled 9ct yellow gold
AAA opal heart
People & Planet

Our eco-friendly methods of crafting jewellery helps reduce the need for mining precious metals. Each piece is meticulously handmade by our small team using traditional jewellery techniques and conscious practices.

Our commitment to the environment can be seen in our use of plastic-free packaging and our efforts to minimize our environmental footprint. With our sustainable alternative, we are not just reducing the demand for precious metals, but also inspiring others to make conscious choices for a better future.

We understand that there is a lot of work ahead of us, but we are fully dedicated to an ethical jewellery practice which protects and support our precious world.
Returns
Delivery