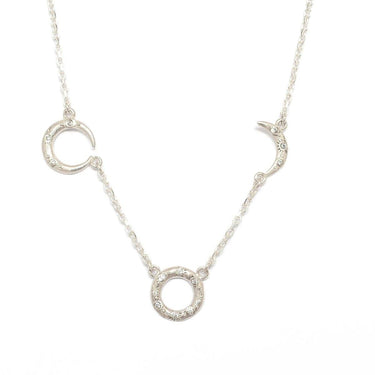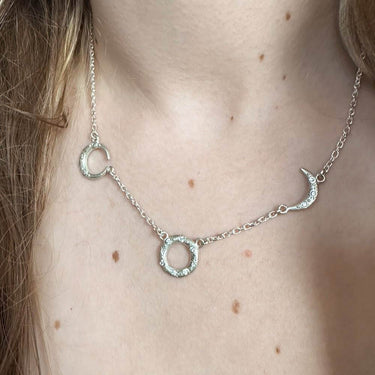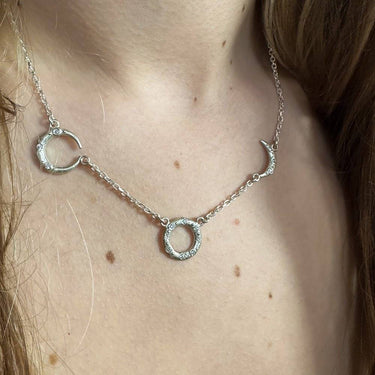 Moon Phase Necklace With Topaz
Sterling silver moon phase necklace measuring with half moon, crescent moon and full moon charms. Each moon charm is set with sparkling white topaz accents which catch the light beautifully 
This gorgeous celestial-inspired necklace dazzles with its carved detailing, perfect for pairing with other minimalist necklaces. Whatever the style, this necklace with its special emblem is perfect for accenting sentimental favourites or a cherished collection.
Perfect for adding a little cosmic wonder to your look. A unique symbol of cosmic beauty, this piece of jewellery will add an enchanting touch to any outfit. Wear it and let your imagination take flight!
Wear this moon phases design and symbolise your special connection to the celestial world above. Every moon cycle holds a unique significance and meaning, making this piece of jewellery a magical and meaningful addition to any outfit.
The moon phase necklace is suspended from the necklace chain, ensuring its hangs perfectly. Complimented with a lightly textured finish this celestial piece is sure to be a treasure favourite.
As a gift this celestial necklace makes a meaningful piece, with its symbolic message and celestial vibe.
Why We Love It

Moon sizes Size: 1.5cm
Adjustable silver chain 16 to 18 inches
Made from recycled sterling silver
Set with X12 sparkling white topaz
The Moon Phase pendant is perfect for the moon goddess in you
People & Planet

Our eco-friendly methods of crafting jewellery helps reduce the need for mining precious metals. Each piece is meticulously handmade by our small team using traditional jewellery techniques and conscious practices.

Our commitment to the environment can be seen in our use of plastic-free packaging and our efforts to minimize our environmental footprint. With our sustainable alternative, we are not just reducing the demand for precious metals, but also inspiring others to make conscious choices for a better future.

We understand that there is a lot of work ahead of us, but we are fully dedicated to an ethical jewellery practice which protects and support our precious world.
Returns
Delivery