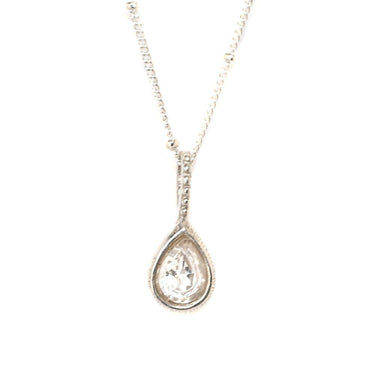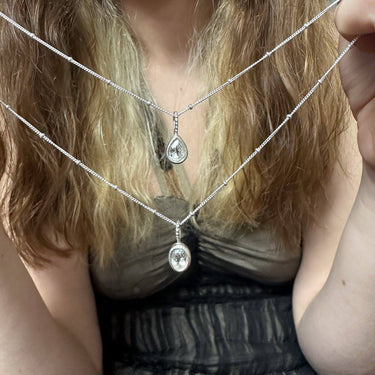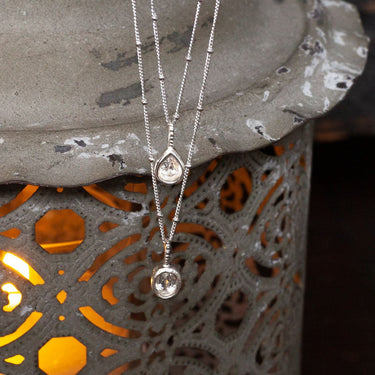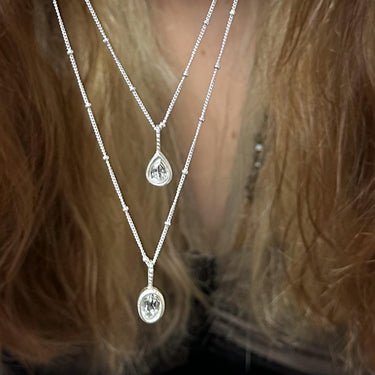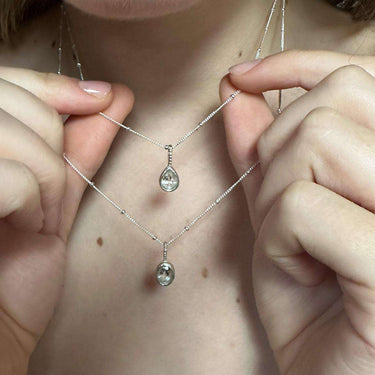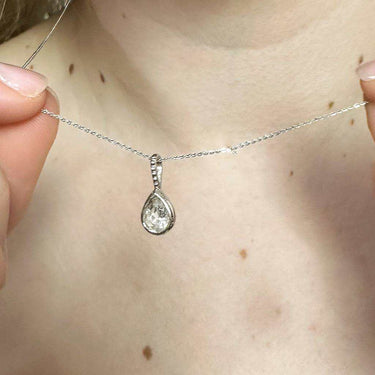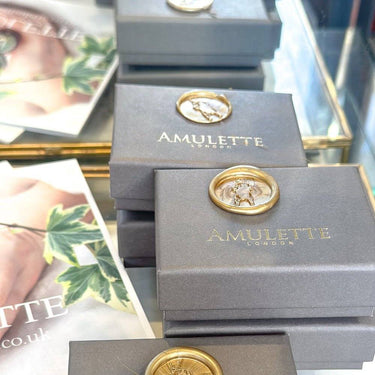 Pear Drop Necklace With White Topaz
This exquisite white topaz pear drop necklace features an exquisite gemstone that sparkles with a magical luster. Its unique design, crafted from sterling silver, captures the luxurious beauty of white topaz, making it the perfect accessory to add a touch of elegance to your look.
This luxe potion necklace is crafted in recycled sterling silver with a beaded detail and rub over setting, this exquisite piece of jewellery is sure to make a statement. Choose this gorgeous necklace to radiate elegance, luxury, and timeless beauty.
This teardrop pear shaped necklace brings a touch of luxury to any look. Symbolising love, abundance and good fortune, the white topaz encourages positivity and light. Two satellite chain lengths available 16-inch or 18-inch chain, please select from the dropdown menu. 
The silver topaz necklace captures the light beautifully with its white gemstone and beaded detailing.
Also see our coordinating drop earrings design to pair with this silver pendant 
Handcrafted using the lost wax jewellery making process Lisa's jewellery is ethically crafted using traditional methods.
Why We Love It

Made from recycled sterling silver
Handmade in the UK
White pear drop pendant
Completed with satellite necklace chain
The teardrop pendant symbolises tears of joy
People & Planet

Our eco-friendly methods of crafting jewellery helps reduce the need for mining precious metals. Each piece is meticulously handmade by our small team using traditional jewellery techniques and conscious practices.

Our commitment to the environment can be seen in our use of plastic-free packaging and our efforts to minimize our environmental footprint. With our sustainable alternative, we are not just reducing the demand for precious metals, but also inspiring others to make conscious choices for a better future.

We understand that there is a lot of work ahead of us, but we are fully dedicated to an ethical jewellery practice which protects and support our precious world.
Returns
Delivery