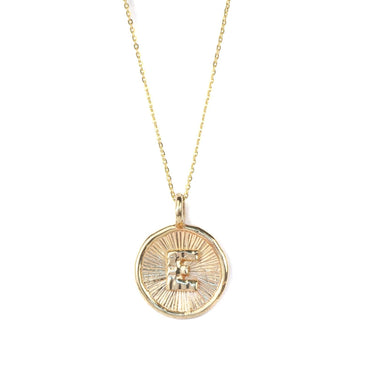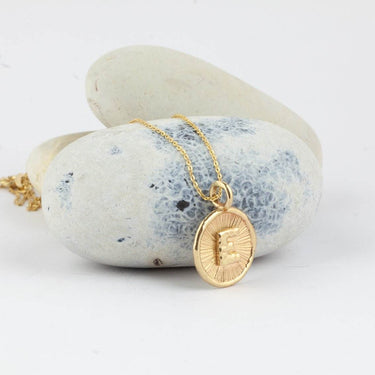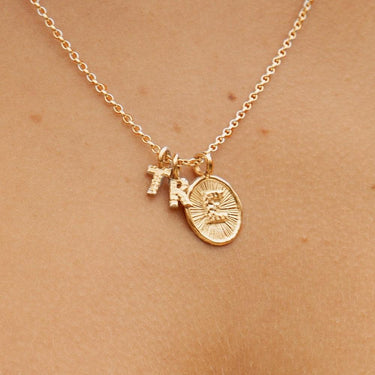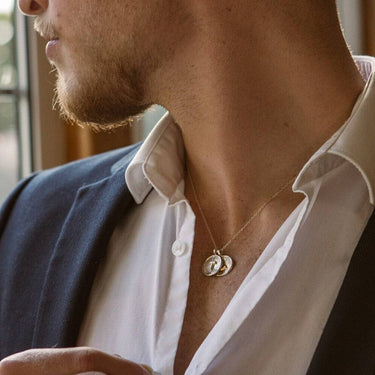 Circle Letter Necklace In 9ct Gold
Distinctive circle letter necklace in 9ct gold a perfect gift for somebody special. With a raised hammered letter and positioned onto a sunray gold disc, layer the initials of your favourite people (and don't forget furry friends!)
An heirloom letter necklace is a gorgeous gift idea for loved ones, who will treasure it forever. The gold initial adds sparkle, while the chain has a pretty and delicate look that makes it perfect for everyday wear.
Letter necklaces are a subtle way to keep those you hold dear close to your heart. Perfect for everyday wear or dressing up an outfit when you need a little extra shine.
Beautiful and personalised circle letter necklace in 9ct gold makes a statement. The perfect gift for Valentine's Day or any day of the year to remind someone that they are loved and adored.With a personalised appeal that's sure to bring a smile!
You can also add additional initials, charms, or even a birthstone. This makes the perfect gift for a friend or loved one, so they can wear your initials (or theirs) close to their heart.Simple, yet elegant.
This custom piece would make an ideal gift for wives, Mums and sisters. *Please note the circle letter pendants are handmade to order - please allow up to 14 days for delivery
Why We Love It

Disc Letter necklace measures 1.5cm
Suspended from a 16 to 18 inches adjustable necklace chain
Made from recycled 9ct gold
Handmade in the UK
Suitable for men and women
Custom made in letter of your choice
People & Planet

Our eco-friendly methods of crafting jewellery helps reduce the need for mining precious metals. Each piece is meticulously handmade by our small team using traditional jewellery techniques and conscious practices.

Our commitment to the environment can be seen in our use of plastic-free packaging and our efforts to minimize our environmental footprint. With our sustainable alternative, we are not just reducing the demand for precious metals, but also inspiring others to make conscious choices for a better future.

We understand that there is a lot of work ahead of us, but we are fully dedicated to an ethical jewellery practice which protects and support our precious world.
Returns
Delivery