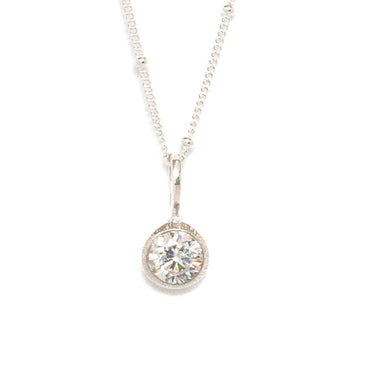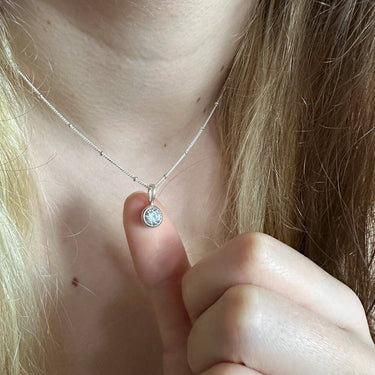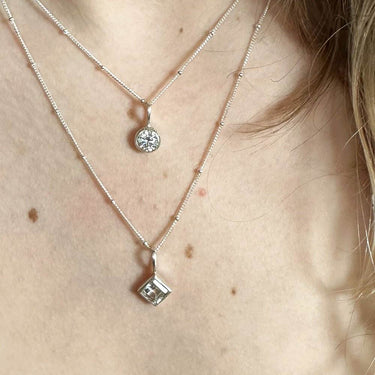 Silver Solitaire Topaz Necklace
White topaz silver solitaire necklace will bring a unique shine to your look cast into with recycled sterling silver. This beautiful piece will bring shimmer and sophistication to any outfit. Show the world your unique style while making an environmentally-friendly choice.
This beautiful charm is adorning a glimmering silver satellite chain and mesmerizing rub-over setting. Double it up for a bold look, or wear it solo for a chic minimalism.
The birthstone for April birthdays this stunning white topaz brings optimism and delicate beauty while also symbolising love, abundance and fortune.. Choose between a 16 or 18-inch silver satellite chain and let the good times roll!
This stunning silver solitaire necklace glitters with every turn. An ideal gift for any special event, or just a sweet treat for yourself!
Our customers can select from a fantastic range of stones: a classic look or something more unique, pear, princess, or round shapes—all with gorgeous sparkling stones designed to last a lifetime. 
Lisa crafted this jewellery with passion and age-old techniques, using a lost wax method for ethical production. This silver solitaire comes gift wrapped in our signature jewellery box with gold wax seal.
Why We Love It

Made from recycled sterling silver
Round topaz 2.8cm including bail
Completed with satellite necklace chain
Handcrafted in the UK
Topaz is known for its soothing and calming effects
People & Planet

Our eco-friendly methods of crafting jewellery helps reduce the need for mining precious metals. Each piece is meticulously handmade by our small team using traditional jewellery techniques and conscious practices.

Our commitment to the environment can be seen in our use of plastic-free packaging and our efforts to minimize our environmental footprint. With our sustainable alternative, we are not just reducing the demand for precious metals, but also inspiring others to make conscious choices for a better future.

We understand that there is a lot of work ahead of us, but we are fully dedicated to an ethical jewellery practice which protects and support our precious world.
Returns
Delivery